Women's 1st XI Kickstart County Cricket Season
The Women's county cricket season kicks off this weekend just over the border against local neighbours, Dorset.
The Wiltshire Women's 1st XI are set to play a T20 double header against Dorset Women, in what was originally a 3 team event, but has since been changed due to covid-19 recommendations.
In recent years, the clash between Wiltshire and Dorset has been competitive and this is likely to be the case for Sunday's fixtures. Both teams plan to field young squads, making for an energetic and exciting day of T20 action.
With a unique winter period preventing any indoor training, the Wiltshire squad have certainly made the most of recent weather with a series of Easter holiday training sessions for the U17s and brand new fortnightly training for the U18s and Women.
New Women's Head Coach, Sam Dent, who also works as Women's and Girls' development officer for the county board is "very pleased" with recent training - "Since the introduction of regular training, it's been brilliant to see a change in ethos within the team. There seems to be a real desire from the girls to learn, develop and to play more competitive cricket".
Dent goes onto say "the recent partnership with Western Storm has certainly added a new dimension and we are extremely grateful for their support so far. Having support and regular visits from [Western Storm] academy coach, Dan [Helesfay], has been really valuable."
The County Women are determined to get the 2021 season off to a winning start on Sunday, with the following 11 players taking to the field.
Isla Thomson (c)
Lily Harffey (wk)
Megan Emms
Ellie Thompson
Victoria Stone
Isabella Lowton
Libby Hughes
Harriet Jones
Emily Smith
Anna-Mae Shearn
Zoe Howell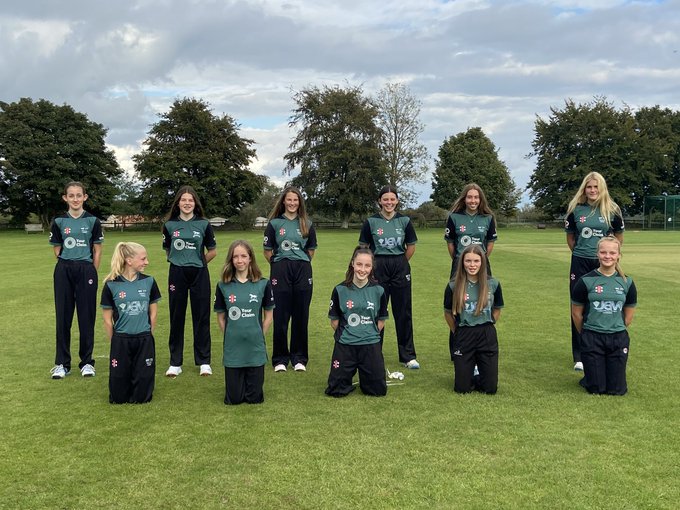 (Pictured: Wiltshire U15 girls in 2020 - many of which now involved with County U18s and County Women's squads)
The fixtures are scheduled to take place at Broadstone CC, but due to government Covid-19 restrictions, spectators are not permitted to attend. Match information may be shared on social media, with results being published within 24 hours of the fixture conclusion.
The county Women's team have 8 T20 fixtures scheduled for April/May, before players return to clubs to compete in the brand new Wiltshire Women's Premier League. An additional friendly against neighbours, Gloucestershire has also been arranged for mid-August.
For more information about Women's or Girls County Cricket, please contact Sam Dent. (Sam.dent@wiltshirecricket.co.uk).
For more information about Women and Girls Club Competitions, opportunities or Girls-only Dynamos Cricket, please contact Sam Dent. (Sam.Dent@wiltshirecricket.co.uk)