County Boys Under 18s win their ECB Royal London One Day Cup group!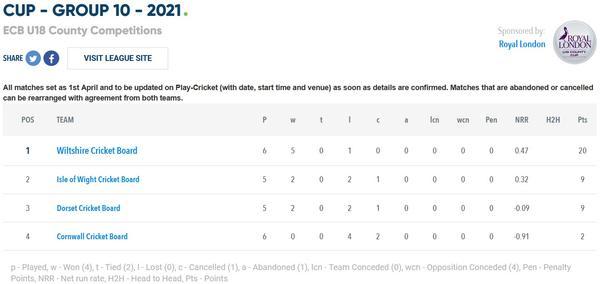 Congratulations to the Wiltshire County Boys Under 18s who have topped their ECB 50 over group for the 2021 season, after winning five out of their six games!
Competing in Wiltshire's group were Isle of Wight, Cornwall and Dorset and after playing each county twice Wiltshire have ended up comfortable winners of their group. Ordinarily this would lead to a play off final against a winner of another group but unfortunately due to Covid restrictions at the time of the competition launching this will not happen in 2021.
Congratulations and thanks go to the management team of Rob Wade, Stuart Nash and Ged Montgomery, but also to the players who have performed consistently well across all formats in 2021. Most notably within this specific competition, Toby Kershaw has finished with 299 runs at an average of 59.80 with positions 2, 3 and 4 in the run scoring charts for the competition going to Wiltshire players in Oli Whiteley, Ben Higton and Josh Smith respectively. Equally in the bowling, Ethan Hutchins finishes as leading wicket take for the competition as a whole with positions 2 and 3 going to Harry Robbins and Ben Higton respectively.
You can view all of the team's performances here.