Thanks given to Wiltshire Cricket's Talent Pathway Coaches and Managers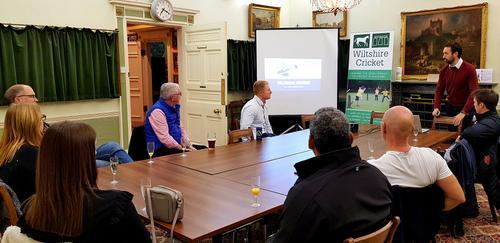 At the Council Chamber in Devizes Town Hall, Wiltshire Cricket said thank you to our talent pathway coaches and managers for the incredible time they commit in providing opportunities for our talented girls and boys.
Talent Pathway Cricket in Wiltshire encompasses winter coaching and summer matchplay programmes from under 10s through to under 18s, with our annual programme providing pathway cricket for approximately 350 children. At this latest Grassroots Cricket Awards event we wanted to say a particular thank you to those coaches and managers without whom we wouldn't be able to run such a comprehensive programme.
The evening was also an appropriate opportunity to reflect on just how challenging the past eighteen months have been in relation to pathway cricket. Half of the 2020 season was lost and then, despite doing all the planning and organisation for it, the entire 2021-2022 winter programme was lost too. However, throughout this period there has never been any negativity from any of our pathway coaches. Instead what we have seen has been an absolute commitment to being creative with re-shaping programmes and providing condensed matchplay and practice windows in order to maximise whatever time that has been available to us. All in all, the resilience, innovation and commitment shown by our coaches just demonstrates how crucial this volunteer group is and how appreciative we should all be of the vital role a pathway coach or manager plays in the development of junior cricketers.
During the course of our Grassroots Cricket Awards evening, we also took a few moments to reflect on the amount of cricket that was played in 2021 and, whilst pathway cricket is about a lot more than just winning, we were also able to reflect on some very positive performances from across both the girls and boys programmes: