Three Wiltshire players selected for Western Storm's 2023-2024 Regional Academy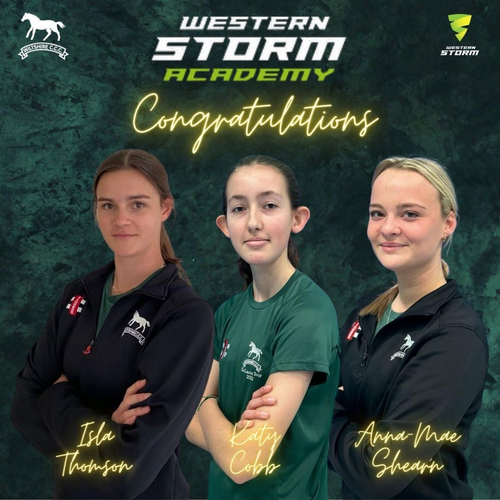 We are delighted to confirm the selection of Anna Mae Shearn, Isla Thomson and Katy Cobb in Western Storm's 2023-2024 Academy intake. Our congratulations to all three players!
Western Storm revealed the names of the 15 players who have been selected for the Regional Academy programme on 17th October and Wiltshire are very proud to have three players amongst the intake. From last year's programme, Anna Mae and Isla have been retained and in addition Katy Cobb has been included for the first time.
The selected players have been picked from across the region from an ever-increasing talent pool and earmarked as players with the potential to make the transition into the professional game in the next few years.
The players will now experience a specifically tailored programme which will consist of a variety of practice and match opportunities across the region throughout the year. They will also attend weekly Academy hub sessions which will give them the opportunity to develop all facets of their game.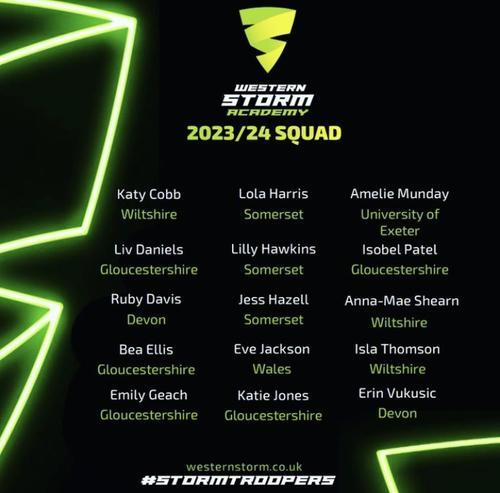 The Western Storm Academy will once again train at venues across our geographical landscape, with weekly localised hubs taking place at Seat Unique Stadium (Gloucestershire), University of Exeter (Devon), Sophia Gardens & Neath Cricket Club (Wales), and Millfield School (Somerset) across the winter.
The selected players will also receive a wide and varied range of support sessions which are designed to further their development. These will include technical support, tactical awareness, sports psychology, a strength & conditioning programme, physiotherapy and medical support.
Speaking about this fantastic achievement for the three girls, and about Wiltshire Cricket more specifically, Sam Dent, Wiltshire Cricket Development Manager said; "Overall, I'm delighted with the position that Wiltshire is in, regarding our Women and Girls pathway structure. Each year, we are going from strength to strength. This winter, we are also improving our talent pathway offer further for the Women & Girls, by adding in optional 1-1 coaching sessions in the Autumn, and additional Strength & Conditioning support for the older age groups. Wiltshire is a highly regarded County for our current Women and Girls talent pathway programmes and our ambition is to become the 'best' talent pathway for Women and Girls cricket in our region, over the coming years"