Wiltshire CCC start NCCA Trophy campaign with victory over Dorset!
Wiltshire CCC v Dorset CCC NCCA Trophy @ Bashley Rydal CC 13th June 2021
Wiltshire won the toss and opted to bat.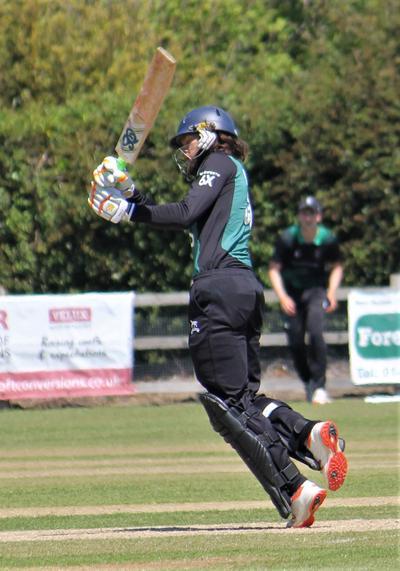 Cameron Steel 31 and Will Wade 13 made a cautious start against some tight bowling from Ben Fletcher and Hampshire prospect Scott Currie. Currie struck first with Will Wade trapped LBW. Cameron Steel then saw a few partners come and go with Simon Woodruff and Josh Digby each taking two wickets. Currie struck again with Jake Goodwin trapped LBW. Meanwhile skipper Ed Young had set himself, but he had to watch partners come and go with Hampshire's Felix Organ taking 3 for 40. When number 11 Matty Burton came to the crease Wiltshire had struggled to a meagre 179 for 9. It was then that we were treated to a batting masterclass from Ed Young with Matty Burton playing his part and staying with him. Ed worked the bowling magnificently with Matty only obliged to face 10 balls, which he did in style and looking very comfortable in the process. Ed, meanwhile, punished anything loose and found the boundary 12 times (11X4, 1X6) as he accomplished a memorable century 103* (from 103 balls) in the final over. The pair had put on exactly 50 in an unbroken partnership to achieve a respectable total of 229 for 9.
Dorset found themselves 7 for 2 after Neil Clark had superbly run out the dangerous Felix Organ with a direct hit with only one stump to aim at and Tahir Afridi trapped Greg Willows LBW. At this point Oli Soames 67 and Luke Webb 37 made it look very easy to accumulate runs and 73 runs were on the scoreboard before Luke Webb was adjudged run out by a sharp throw from Joe King. This only brought Alex Eckland 41 to the crease he together with Oli Soames they pushed the score on to 152 before Oli Soames was finally caught by Neil Clark. Wiltshire had reintroduced Matty Burton to the attack and he had an inspired spell by first removing Oli Soames and then the influential pair of Ed Ellis and Scott Currie – three batsmen with considerable reputations. With the score now on 181 for 6 the odds were still marginally in Dorset's favour, but Wiltshire emphasised the point that cricket is a team game as first Joe King had Eckland removed caught by Uzi Qureshi, then Cameron Steel trapped Josh Digby LBW before Arthur Godsal removed the belligerent Rob Pack before he could hit more than one six! A mix up between the tail enders enabled Neil Clark to race with ball in hand to run out Ben Fletcher before he could regain his ground. A fine win for Wiltshire against a strong Dorset side.
Wadworth Man of the Match - Ed Young