Frustration as Duckworth Lewis leads to narrow defeat for Wiltshire 1st XI against Devon
Wiltshire CCC v Devon CCC NCCA KO Trophy
Played @ Sidmouth CC 27th June 2021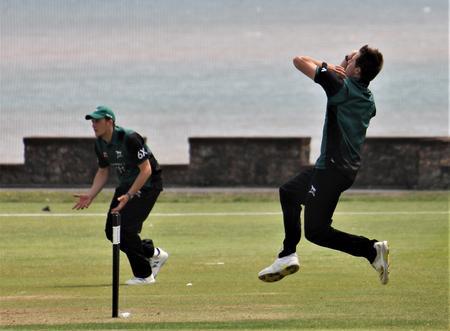 With the weather forecast predicting anything from 70-95% rain throughout the day the teams were pleasantly surprised to be able to start on time albeit under overcast conditions. Wiltshire won the toss and elected to field. The first wicket fell when Tahir Afridi trapped James Degg LBW. There was then a steady procession of wickets falling with all bowlers having a say. The best partnership Devon could muster was 38 for the 2nd wicket between Elliot Hamilton 20 and Matthew Thompson 22. Ben Beaumont managed to stay around for a dogged 41 from 82 balls. Former Somerset and Kent professional Calum Haggett 18, was beginning to look threatening when Tahir Afridi enticed him into giving catching practice to Neil Clark (with over 50 catches to his name during his Wiltshire career) Apart from Tahir Afridi ( 9-1-46-2)there were also 2 wickets for Chris Aubrey (10-1-38-2) returning skipper Ed Young (8-0-32-2) and Will Naish (5-0-20-2) Arthur Godsal (7-0-23-1)took the wicket of Devon keeper Matthew Thompson when he got him to drag the ball onto his stumps. Promising youngster Josh Croom (9.2-0-38-1) completed the rout when he bowled Popham. There were 2 catches for Neil Clark, 2 for Ed Young , a catch and a stumping for wicketkeeper Max Trotman plus a catch for Arthur Godsal.
After enjoying some typical Devon hospitality the teams took to the field again with the weather taking a turn for the worse. Wiltshire began in confident mood with a strong batting line-up. David Bromley was the first to go when he edged one to wicket-keeper Thompson. Jack Stearman played some pleasant shots on his way to 21 not out. Chris Aubrey struck two magnificent boundaries as he progressed to 11 with the score on 40 for 1 from 11.4 overs. It was then that Wiltshire suffered a cruel twist of fate. With the score as it was Wiltshire were winning the game by 2 runs (Duckworth-Lewis target 38) However with the very next ball Haggett claimed the wicket of Chris Aubrey who was caught behind by keeper Thompson. This changed the result as Duckworth -Lewis then said we needed 52 …. But there was no time to score the runs needed as the players scurried from the field as the rain began to fall heavily. Sadly, that was the last play possible and the umpires had no choice but to abandon the game at 6:15pm with Devon taking the Victory.
Devon CCC 202 all out (48.2 overs beat Wiltshire CCC 40 for 2 (11.5 overs) with a rain affected target of 52 runs after 11.5 overs.