Weather again plays its part as Wiltshire 1st XI fall to defeat against Cornwall
Having been defeated by the weather ... and Devon CCC in their previous match which hinged on just one ball, Wiltshire took to the field bolstered by the return of skipper Ed Young and the talented Cameron Steel, plus the reurn of an injured Jake Goodwin and also Joe King. But how would they fare against their perennial enemy ... the weather!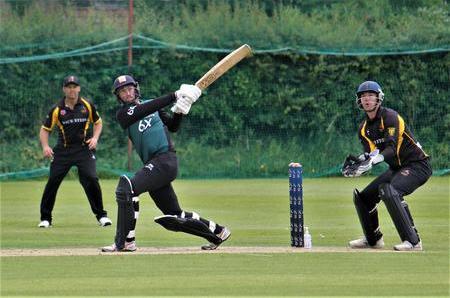 Cornwall won the toss and put Wiltshire in to bat in conditions which they felt would favour the bowlers. Opener Cameron Steel stood firm while wickets fell steadily around him. That was until skipper Ed Young arrvied at the crease. Together they put on 109 for the 5th wicket and at a quick rate. Ed Young, 66, was the first to go followed soon afterwards by Cameron Steel who scored an excellent century, 109, from jut 98 balls. Jake Goodwin 14* and Arthur Godsal 14 maintained the scoring rate after yet another rain delay. Wiltshire posted 248 for 7 from 42 overs, but the rain curtailed any addition to that score.
After a lengthy delay and numerous calculations, it was decided that Cornwall would face a revised target of 193 from 25 overs. What followed was a frantic run chase which saw Cornwall take the upper hand with an onslaught which included 15 sixes. Greg Smith 65 from 30 balls (6 sixes) and Daniel Lello 32 from 16 balls (3 sixes) ensured that Cornwall were well with run rate which alloaed Jonathan Ludlan 20* and Ben Ellis 16* to take Cornwall over the finishing line without being under too much pressure. Joe Kind took 4 wickets with a wiket apiece for Tahir Afridi, Josh Croom, Chris Aubrey and Ed Young. Some splendid fielding saw Neil Clark take 4 catches, Jack Stearman 2 with further catches for Arthur Godsal and Tahir Afridi. Cornwall reached their target totalling 196 for 8 with 26 balls to spare. However, neither side did enough to continue into the next round of the competition since Cornwall needed to get their runs in just 13 overs and Wiltshire needed to win by 76 runs. Nevertheless, some encouraging performances to take in to the next round of matches, the 3 day Championship games starting next at Corsham.