Wiltshire 1st XI hang on for draw in rain affected NCCA Championship fixture against Berkshire
NCCA Championship match at Corsham CC 11th-13th July 2021
Wiltshire CCC v Berkshire CCC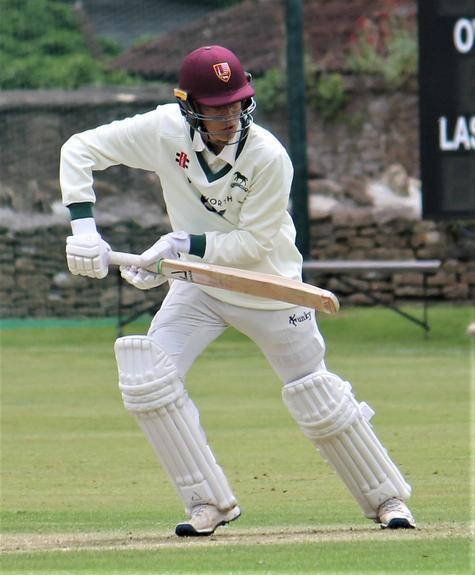 In yet another rain affected game Wiltshire earned a draw against the current NCCA Champions Berkshire. Wiltshire won the toss and elected to bat first … with the score at 41 for 4 and four capable batsmen back in the pavilion thinks were looking somewhat bleak. However, this brought young Jack Stearman to the crease and he applied himself superbly to the task by making the top score of 35 from 116 deliveries. Earlier Ed Young had made 26 with Arthur Godsal 24 and Tahir Afridi 26 moving the score on to 179 on the following day after rain had curtailed Day 1 and held up the start of Day 2. Tom Nugent was the main destroyer taking 6 for 63 from 21.3 overs.
When the Berkshire reply got underway they put on 88 for the first wicket before Chris Aubrey had Archie Carter 42 well held by Will Naish. Open Savin Perera 121 not out held firm throughout the innings and he was well supported by Josh Lincoln 96 who fell just short of his century trapped LBW by Chris Aubrey. There were also wickets for Josh Croom, Joe King and Ed Young, but Berkshire moved on to an impressive total of 347 for 5 when they declared over lunch on Day 3 giving Wiltshire 70 overs to see the game out and earn a draw. Just for once the weather gave Wiltshire a helping hand as a few overs were lost to a shower which brought an early tea interval.
Wiltshire lost an early wicket with just one run on the board, but then Cameron Steel 25 and Will Naish26 were beginning to look comfortable when they both perished. Wiltshire were soon 79 for 5 and looking at the possibility of a defeat … however, no cause for concern because that brought first innings hero and Wiltshire's Wadworth Man of the Match, Jack Stearman to the crease where he demonstrated exactly how to play in a tight situation scoring a valuable 22* runs from 135 deliveries and continuing to frustrate the Berkshire bowlers. He was ably supported by Jake Goodwin who applied himself equally well to the task and scored an impressive 56* bringing up his 50 with a massive straight 6 to the delight of the Wiltshire faithful. The hard fought draw enabled Wiltshire to finish on a positive note and they will now look forward to facing Dorset at Wimborne CC on 25th July.